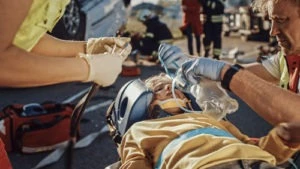 While a broken bone is more obvious, internal injuries can be invisible without imaging equipment. This may lead to delayed diagnosis and lasting damage. Even with quick treatment, these injuries can be life-altering.
When someone else caused the car accident that led to your internal body injury, you may have recourse. A personal injury claim could help not only address the cost of medical expenses but also compensate you for any lasting changes to your life.
You and your injuries are not invisible to Bader Scott Injury Lawyers. To prove it, we offer a free consultation to hear about your case and advise you on the next steps. An Albany internal body injury lawyer on our team can work with you to make your story known and pursue compensation. Call today at (404) 888-8888.
Pain You Cannot See
"Internal injury" is a broad category referring to a number of conditions, which can all result from car accident trauma. Some examples include:
Internal bleeding
Broken ribs
Ruptured or damaged organs
Abdominal aortic aneurysm
Brain injuries
Many of these conditions are connected. For instance, broken ribs can result in a punctured and collapsed lung, called pneumothorax, while internal bleeding can be a secondary consequence of another injury.
Abdominal Aortic Aneurysm
An abdominal aortic aneurysm affects the heart. In general, an aneurysm is an enlargement of an artery—in this case, the aorta in the abdomen. This aneurysm can remain small or grow to the point of bursting. It can also contribute to the development of blood clots.
The Mayo Clinic highlights that this injury can grow worse over time while escaping detection. If the wall of the aorta becomes torn or ruptures, catastrophic and sometimes fatal internal bleeding can occur. Abdominal aortic aneurysms are known to occur following motor vehicle accidents, making them a very serious consequence of driver negligence.
Traumatic Brain Injuries (TBIs)
A traumatic brain injury occurs when the head is struck, jolted, or whipped back and forth, causing the brain to strike the sides of the skull. This can easily happen during a car accident.
According to the Centers for Disease Control and Prevention (CDC), traumatic brain injuries can lead to several symptoms and complications, such as:
Loss of consciousness
Headaches
Vision and hearing impairment
Mobility problems
Personality changes
Memory loss
Anxiety and depression
Coma
Diminished quality of life
This kind of internal body injury has the power to completely change someone's life. If a negligent driver caused the accident that led you to suffer a TBI, you have the right to hold them accountable. Contact Bader Scott Injury Lawyers at (404) 888-8888, and a team member will provide a free consultation for your case.
For a free legal consultation with a internal body injury lawyer serving Albany, call (404) 888-8888
Types of Trauma
The cause of an internal body injury can fall under two categories of physical trauma:
Blunt force trauma refers to something striking the body with enough force to cause damage while penetrating trauma breaks the skin. The kind of trauma that led to your injury could impact the costs you face as you recover. For instance, some blunt force trauma may escape diagnosis until later, while penetrating injuries may require extensive surgery to repair.
Both blunt force and penetrating trauma can result from many car accident scenarios. Some unexpected sources can contribute to internal injuries during car accidents, such as seatbelts.
An Albany internal body injury lawyer can take all the aspects of your treatment and recovery into account when evaluating your case. You may be able to seek compensation to cover treatment, diagnostic care, physical and rehabilitative therapy, and follow-up expenses.
When Negligence Plays a Role
In order to pursue compensation from another driver, you must prove that they caused the accident that directly led to your injuries. In other words, they breached a duty of care owed to you, and this breach caused your suffering and losses.
In motor vehicle accidents, negligence typically involves some form of careless or reckless behavior on the road, such as speeding, drunk driving, or failure to yield. There are many other common forms of negligence that contribute to car accidents, including:
Distracted driving
Road rage
Improperly loaded cargo
Wrong-way driving
Ignoring traffic signs or signals
In short, negligence means that someone else caused the accident through their poor decisions or lack of oversight. You may be able to hold the other party accountable.
Albany Internal Body Injury Lawyer Near Me (404) 888-8888
Easing the Burden of Internal Injury Expenses
Internal body injuries may not have a single cure, meaning you are probably facing many different expenses along the road to recovery. You may think you should wait to file a claim until you know what all of your expenses will be and try to recover that amount, but do not delay. Georgia's statute of limitations for filing is two to four years from when the accident occurred, per the Official Code of Georgia Annotated (OCGA) §9-3-33.
Moreover, if you are concerned about not receiving compensation for costs down the road, do not worry. Your Albany internal injury attorney will evaluate your past and present losses as well as consult experts to understand your possible future expenses. They will figure that into the value of the case. You could receive compensation for:
Emergency department visits
Diagnostic imaging
Surgery
Physical therapy
Lost income
Medical equipment
Prescription medication
Diminished earning capacity
Reduced quality of life
Complete a Free Case Evaluation form now
We Recognize Your Struggle
The team at Bader Scott Injury Lawyers understands what you have been through and wants to help. With our free consultation, you can learn about how an Albany internal body injury lawyer can stand up for your right to pursue compensation against the driver who left you in pain. Call our office to speak with someone today at (404) 888-8888.
Call or text (404) 888-8888 or complete a Free Case Evaluation form