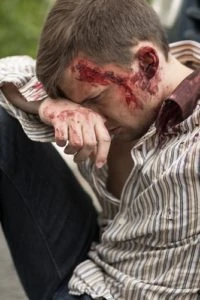 When you have suffered an injury to your head after a car accident, you could be facing an uncertain future. For certain types of brain injuries, the victim may not be able to work in the same capacity he or she did prior to the injury. The injury may cause lasting health problems that can affect the body's motor skills and ability to think clearly.
When the other driver caused the accident in which you suffered an injury, you deserve compensation for this type of injury that truly reflects the future you are facing. Perhaps the insurance company representing the driver who hit you contacts you about a settlement soon after the crash, but you are unsure whether this amount is a fair one.
This is where an Albany head and brain injury lawyer can help. The team at Bader Scott Injury Lawyers can study the facts in your case, determining just what kinds of financial hardships you may face going forward. For a free case review, call us at (404) 888-8888 as soon as possible.
Dangers of Traumatic Brain Injuries
One of the most serious injuries victims can suffer in a car accident is a traumatic brain injury (TBI). A TBI occurs when the head or brain suffers a violent blow after some sort of trauma, according to Mayo Clinic.
A TBI can occur when a foreign object penetrates the skull and injures the brain, such as metal parts flying around a car accident scene. A TBI can also occur when the victim's body suffers a violent shock, causing the head and neck to snap back, which results in the brain striking the inside of the skull.
For a free legal consultation with a head and brain injury lawyer serving Albany, call (404) 888-8888
Signs of Traumatic Brain Injuries
Doctors can identify a severe TBI through a number of symptoms, including:
Loss of consciousness for several minutes
Significant head pain
Inconsistent dilation of the pupils in the eyes
Seizures
Vomiting
Confusion
Slurred speech
Non-typical behavior
Weakness in the limbs
If first responders to the accident scene suspect that you could have a severe TBI, they will recommend that you receive emergency medical care. Having your TBI diagnosed as early as possible may give you a better chance at recovery, although there is no guarantee of a full recovery.
Albany Head and Brain Injury Lawyer Near Me (404) 888-8888
Signs of Concussions
When a doctor believes you may have suffered a concussion in a car accident, this is considered a mild type of traumatic brain injury. However, even a concussion can be extremely serious, leading to long term health problems. Some of the symptoms of a concussion include:
Brief loss of consciousness
Headache
Feeling of confusion or disorientation
Drowsiness
Sensitivity to light and sound
Memory issues
Concentration issues
A concussion may heal after a few weeks, giving the victim a better chance of recovery than a significant TBI. However, some concussion symptoms may not heal fully, leaving the car accident victim with some long-term health problems.
Hiring an Albany head and brain injury lawyer can help you figure out the full extent of your injuries and the settlement that you may deserve. We will study the medical reports from your doctors, giving us the ability to determine whether you will need ongoing medical care or if you can still work in the same capacity. Call Bader Scott Injury Lawyers today at (404) 888-8888 for a free review of your case.
Complete a Free Case Evaluation form now
Other Types of Head Injuries
Some types of head injuries in a car accident do not involve the brain. Such head injuries can be extremely severe, leading to long-term problems for the victim.
Click to contact our Albany Car Accident Lawyers today
Facial Trauma
When you are in a car accident, the force of the other vehicle hitting your car can cause crushing injuries for you that can affect the bones in your face. When you have suffered a broken jaw or a broken eye socket, this can be a life-altering injury, leaving you with pain for many years into the future or with a loss of vision.
Facial injuries in a car crash can cause emotional trauma for you, too, as your injuries could lead to permanent disfigurement. You deserve to have financial compensation for this emotional trauma.
Lacerations
If pieces of the car are flying around after a violent crash with another car, these parts could strike you in the face or head, leading to deep lacerations.
Although doctors may help you heal from these lacerations, you could end up with permanent scars or a significant loss of blood that requires a long hospital stay.
It is also possible that the lacerations could lead to an infection, leaving you with a potentially life-threatening situation.
Broken Skull
When another car or a loose object strikes the head with excessive force in the car crash, this could leave the victim with a cracked skull or displacement of the base of the skull. This type of injury may require the work of a neurosurgeon to reconstruct the skull and protect the brain, according to the Cleveland Clinic.
You Deserve Fair Treatment from the Insurance Company
When negotiating with the insurer for the other driver about your settlement, the insurer may tell you that he or she has your best interests in mind. However, this simply is not the case.
The insurer is working for the insurance company, which is trying to pay the smallest settlement amount possible. The fewer large settlements the insurer has to pay, the greater profits it can earn over the long run.
Negotiating on Your Behalf
By hiring an Albany head and brain injury lawyer to represent you, you will have an advocate working for you. The team at Bader Scott Injury Lawyers will have your best interests in mind, counteracting the techniques the insurer may use to try to reduce your settlement.
We will present your side of the story to the insurance company, showing why you deserve a fair settlement amount. By allowing us to negotiate with the insurer, you can focus your time and energy on recovering from your injuries and on your family. Contact us at (404) 888-8888 today for a free consultation.
Call or text (404) 888-8888 or complete a Free Case Evaluation form