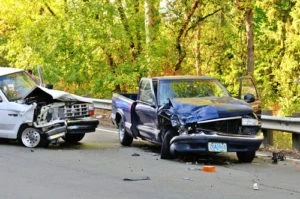 If another driver failed to yield and collided with your vehicle in Albany, you may be able to hold this driver accountable for your injuries and losses. If we believe we can help you secure financial recovery, an Albany failure to yield accident lawyer from Bader Scott Injury Lawyers will represent you throughout the legal process.
You can learn more today by contacting the Bader Scott Injury Lawyers team. We offer complimentary consultations to accident victims. Our team will assess your legal case based on the details you share with us, and discuss your options. We can also explain your rights and the strength of your case. Call (404) 888-8888 now to get started.
Failing to Yield Right-of-Way Violates Georgia Traffic Laws
Failure to yield is a common mistake that may be made by distracted, fatigued, or careless motorists. The Insurance Information Institute (III) reports that failure to yield the right-of-way caused about 7 percent of car accident fatalities in the United States in 2018. This commonly occurs when a driver is making a left turn across an intersection. They fail to yield to oncoming traffic and instead turn in front of other vehicles. When the oncoming traffic cannot stop or slow down enough to avoid an accident, a collision occurs.
To prove that the driver who failed to yield is responsible for your accident, and therefore legally accountable, you will need to prove negligence. This requires proof of four things:
They Had a Specific Duty to Yield
The driver in question had an obligation to drive carefully and follow traffic rules. Failure to yield often violates Georgia's left turn laws, according to Official Code of Georgia Annotated (OCGA) §40-6-71. Thereafte.
They Failed to Uphold that Duty
Once you identify the law that is meant to stop accidents like yours, you will need to prove that the at-fault driver violated that law. This is often possible through eyewitness interviews, accident reconstruction, or video of the accident.
Their Failure Caused the Accident
You will need to tie your collision to the at-fault driver's violation of the applicable traffic law. Evidence may include the damage to your vehicle, accident reconstruction, and other physical evidence.
You Suffered Losses as a Result
You will need to document your expenses, losses, injuries, and prognosis. This will support your claim for compensation or your case for a financial award in court.
When you work with a lawyer, your attorney can handle all of these aspects of your case for you. To learn more, call Bader Scott Injury Lawyers now at (404) 888-8888. We may be able to handle your legal case while you focus on healing from your injuries.
For a free legal consultation with a failure to yield accidents lawyer serving Albany, call (404) 888-8888
How the Bader Scott Injury Lawyers Team Can Help with Collision Claims
If an Albany failure to yield accident lawyer from Bader Scott Injury Lawyers represents you in your Albany car accident case, we will do so on a contingency basis. You will not need to pay a retainer or other upfront costs. We will provide the financial resources necessary to investigate your accident and take legal action, either through:
Filing an auto insurance claim based on the at-fault motorist's auto liability policy
Taking the case to trial and asking the judge or jury for a financial award to cover your losses
In some cases, we may need to do both. We can sometimes negotiate an out-of-court settlement based on the case we build and the insurance policy of the at-fault driver. However, this requires the insurer to agree to a fair settlement.
If they accuse you of causing or contributing to the accident or refuse a just payout, we will need to take the case to court. It is important to know that you may still recover compensation even if they can show you shared fault in the collision. Under OCGA §51-11-7, comparative negligence laws may reduce the value of your claim, but you can still recover compensation as long as you are 49 percent or less at fault.
Albany Failure to Yield Accident Lawyer Near Me (404) 888-8888
Recoverable Losses in an Albany Failure to Yield Accident Case
Bader Scott Injury Lawyers will seek compensation for our clients based on their accident-related losses. The possible compensation you may be able to seek will vary based on the details of the case. Commonly, recoverable losses may include:
Current and future medical testing, treatment, hospitalization, rehabilitation, and related costs
Care and support for catastrophic injuries
Lost wages, benefits, and a reduced ability to earn a living
Vehicle repairs
Other property damages
Additional expenses related to the accident
Pain and suffering losses
Other intangible losses
When an accident victim dies from their injuries, their immediate family members can pursue wrongful death damages under OCGA §51-4-2. Our team will review your case and help you determine your rights.
Complete a Free Case Evaluation form now
Act Today Before Time Runs Out to File a Civil Suit in Your Case
In Georgia, you have up to two years to file a civil lawsuit in most car accident cases. In general, all victims of personal injury accidents in Georgia have only two years to take legal action under OCGA §9-3-33. There are some exceptions to this rule, however. A lawyer can explain how the statute of limitations applies to your case.
Missing this deadline could jeopardize your right to hold the at-fault driver responsible for your losses, so it is important that you notify us with sufficient time to act.
Click to contact our Albany Car Accident Lawyers today
Discuss Your Albany Accident with a Team Member Today
An Albany failure to yield accident lawyer from Bader Scott Injury Lawyers may be able to represent you and seek compensation on your behalf after a collision. Call our team today at (404) 888-8888 for your free case evaluation and consultation.
Call or text (404) 888-8888 or complete a Free Case Evaluation form